Take Action
Upcoming Events/Actions
California Coastal Commission Meeting (Online)
Wednesday, November 17th at 9am
Click here to view agenda
Informational Briefing on Public Trust Tidelands and Sea Level Rise
by Dr. Charles Lester, Former CCC Director, Agenda Item 6
Critical Infrastructure at Risk; Sea Level Rise Planning Guidance for California's Coastal Zone,
Agenda Item 7 - vote to approve will be taken Comments and questions may be submitted in advance online or during the meeting by submitting speaker request
Orange County Oil Spill Town Hall (online and in person)
Saturday, November 20th, 4-6pm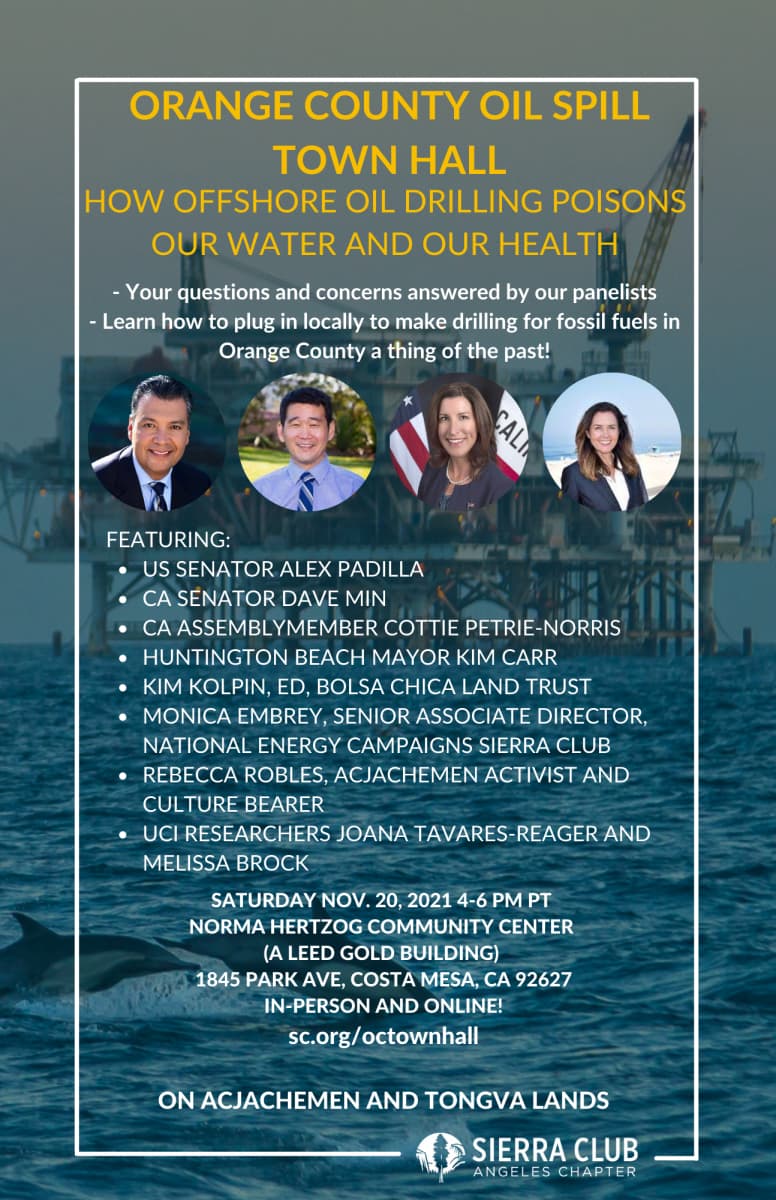 Fund the Lawsuit
We have a $5000 Matching Fund! Citizens About Responsible Planning (CARP) will match all donations dollar for dollar. Our Paypal account allows donations to be tax deductible. Checks can also be sent directly to our attorney, Coast Law Group, LLP, 1140 S Coast Hwy 101, Encinitas, CA 92024 (write for PWP Lawsuit on check). Thanks to your generous donations we have raised over $4000 which is being matched by CARP dollar for dollar. We are very grateful for your support.
While PWP sued the Coastal Commission, Beach Oil Minerals is also a party to the lawsuit. Our attorney, Livia Borak Beaudin of Coast Law Group succeeded in defeating a motion by BOM to have our case dismissed for lack of legal standing and also twice convinced the judge to rule against BOM's requests to have the project's permit deadline extended indefinitely. Unfortunately, in her final ruling on the merits of our case the Judge found for the Coastal Commission and dismissed the lawsuit. Until further notice, all donations will fund court costs and legal fees. PWP will continue to investigate and challenge wetlands restoration projects, plans for a new gas plant, and other threats to the Los Cerritos Wetlands.
Contact Decision Makers
Public Comment Period on BOM's Request for a Coastal Permit Extension now open
Beach Oil Minerals has applied for an extension of its Coastal Development Permit for the Los Cerritos Wetlands Restoration and Oil Consolidation Project which expires this December. The Coastal Commission's permit extension process allows for the consideration of "changed circumstances" that might affect the consistency of BOM's Project with the Coastal Act. The Commission must identify not only the changes, but also how these changes could lead to a different conclusion.
This review will likely focus on changes that might alter the conclusions made in evaluating and allowing the use of the Coastal Act's Override Provision in approving the project in 2018. The Commission may consider the following:
Additional state-level policy changes and directions on climate change and CO2 emissions, and scientific info about this, that would change the conclusions made three years ago.
Insights and concerns about tribal interests that were not available or addressed at the time.
New evidence about the urgency of addressing climate change (IPCC reports, Paris thresholds).
Increased understanding about the loss of wetlands from sea level rise.
The urgency of pursuing alternative energy sources such as offshore wind.
Changes in the environmental quality of the project site.
The degree to which the applicant has "diligently" pursued the project.
Email comments to Kate Hucklebridge
kate.huckelbridge@coastal.ca.gov
Subject Line: Comment on CDP No. 9-18-0395 BOM Request for a One Year Extension
Sample email
I/We value the Coastal Commission's role in evaluating all changed circumstances when considering BOM's request for a one-year extension of its 3 year CDP, and support a full public hearing should three Commissioners request it. We understand that you may focus on investigating changes with respect to the use of the Override Provision, including new data on the loss of wetlands due to sea level rise. We welcome the Commission's efforts to address the impacts of climate change and CO2 emissions, environmental justice issues, and the historic and ongoing marginalization of tribal voices.
Educate Yourself and Others
Review these documents, slide shows, and articles to learn more about threats to the Los Cerritos Wetlands and Puvungna and the impacts of fossil fuel extraction to the region.
Downloadable resources, videos, and images
Legal Arguments in Lawsuit
Documents
Connect
Allies:
The Los Cerritos Wetlands is our church, this is where we pray, this is where we go to remind people of who we are. We constantly struggle to keep these parcels of land in a natural state. We get very few wins when it comes to land. Allow people to have these sacred sites. The Coastal Commission should not be afraid of developers and their money.

— Gloria Arellanes

Tongva Elder and Activist